Welcome to the Ben Davis Conservancy District.

Our main goal is to make sure the sanitary sewer system remains open and flowing for the residents in the District.
However we maintain ONLY the sanitary sewer system and are not responsible for storm water drainage or run-off.
---
RESPONSE TO COVID-19 LETTER to Public
Change of Address? New Property Owner? Download/Print our Change of Address Form
---
Application for Sanitary Sewer Service Download/Print Application Form
---
Ordinance #2019-1 – Implementing EDU's as the basis of sewer user fees Download PDF here
Ordinance #2019-2 – Sewer Rate Ordinance Download PDF Here
Order authorizing the Ben Davis Conservancy District to change the nature of sewer charges to an equivalent dwelling unit (EDU) basis Download PDF Here
---
Citizens Energy Group Increasing Rate
See article below on Citizens Energy Group steadily increasing rates.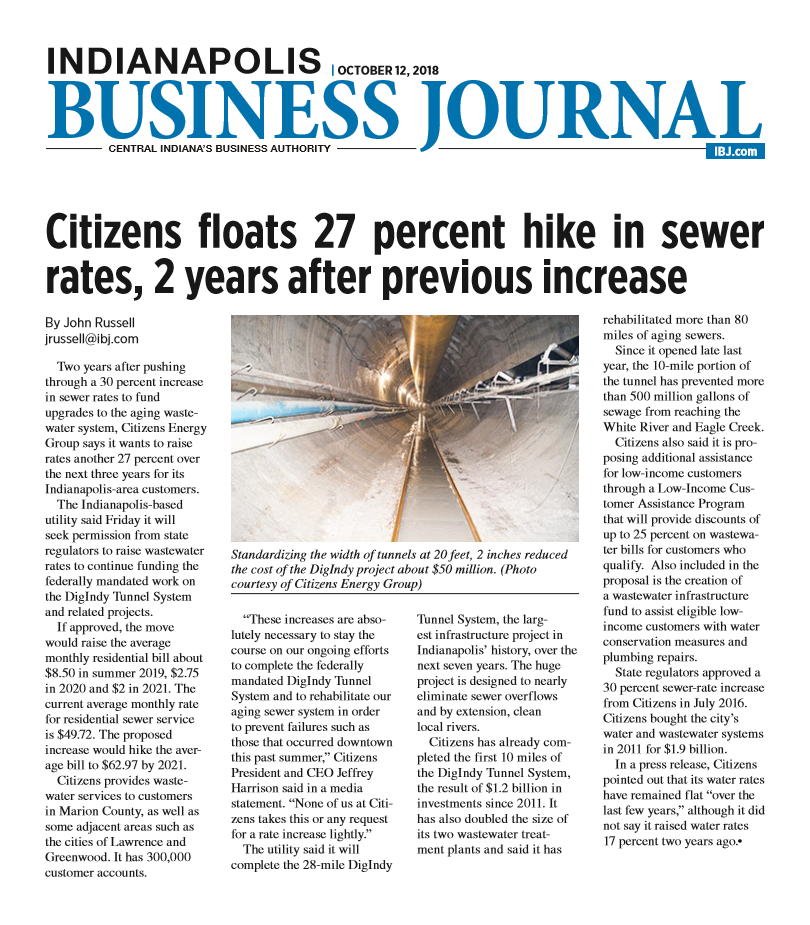 Public Service Announcement — January 17, 2019
The directors of the Ben Davis Conservancy announced this week that they have filed a petition with the Marion County Circuit Court for permission to take preliminary steps to seek financing for a Sewage Treatment Facility. The project is still under consideration and is contingent upon favorable results of an engineering study and a study by the district's financial advisor where comparative costs and user fee rates can be compared with sewer user fees likely to be charged by CWA Authority if a treatment facility is not constructed. If tentatively approved by the Circuit Court, the Directors will hold a public hearing in the district to solicit comments, advice, and information from the freeholders in the Conservancy . After this public hearing of the freeholders, which probably will be held in May 2019 , a decision will be made as to whether or not to construct a sewage treatment facility. The treatment facility, if constructed , would cost approximately $15,000,000 and would be financed by revenue bonds at market rates from user fees now being collected by the Conservancy.. The Circuit Court hearing is a public hearing wherein comments and evidence deemed relevant is solicited by the Conservancy from the general public and the public is invited to attend. This hearing will be held on March 15, 2019 at 9:30 .a.m. in the Marion County Circuit Court in the City-County Building.
Circuit Court Minute Sheet – Approving Treatment Plant
Explanation as to why the increase in User Fees
For years the Conservancy Residents got a great deal and paid much less than the residents of the old Indianapolis Sanitary System. Almost 97% of the residents paid less for sewer service than everyone else in the County.
The City of Indianapolis sold its sewer system to CWA Water Authority, Inc. and they were ordered by the IURC to renegotiate all contracts with Ben Davis, Greenwood, Lawrence and other satellite systems. As all sewer charges will dramatically increase due to the mandate to clean up the White River by the Environmental Protection Agency and the IURC did not feel that Ben Davis should be unaffected by the increase in sewage processing fees that everyone in Marion Count and its environs witll face.
The Conservancy intervened in the rate case and after months of negotiation, the case was settled and the conservancy and the other litigants are required to gradually increase the costs to CWA for sewage processing with the largest increase per gallon incurring in 2019. (This is why the property tax rate for 2019 could not be lowered
The Conservancy has three options: 1. Dissolve and be thrown into the CWA district; 2. Build a treatment plant ; or 3. Stay with CWA for a time and try to collect the sewer processing charges so that building a treatment plant is an option. The best alternative is not clear, but if we can collect 90% of our sewer processing fees for a few years and if the estimated benefit to the freeholders is determined by our financial expert to be substantial, the board is inclined to ask for authority to build a treatment plant. This however cannot be determined until such time as our collections are at 90% for a period of at least two years.
THIS PDF WAS AN EXPLANATION THAT WAS READ TO ALL WHO ATTENDED THE PUBLIC HEARING ON DEC 17, 2018. PLEASE TAKE TIME TO READ AND UNDERSTAND. Public Hearing Dec. 17th SUMMARY READ